IP Telephony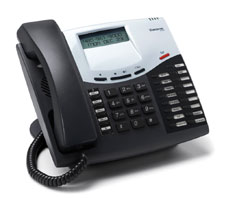 The Mitel Axxess and 5000 not only supports IP telephony, but you get also get the choice of proprietary IP or using of SIP (Session Initiation Protocol).
IP
In the world of converged voice and data, IP telephony is already revolutionizing how businesses work. The ability to run voice and data simultaneously over the same connection not only brings significant economies to those who have previously run separate voice and data networks it also makes the implementation of such facilities as home worker/remote worker far more cost effective and compelling. Mitel has been at the forefront of IP telephony since 1997. The Axxess and 5000 platform has evolved and can today offer the same range of advanced features and facilities to the user whether they are on a traditional extension or on an IP extension many hundreds or thousands of miles from the main telephone system.
Backward compatibility to the existing installed base of Mitel Axxess platforms will mean that users may migrate to IP telephony at a rate to suit their application and budgets.
When an IP handset is in Axxess/5000 IP mode, it operates like a traditional Mitel handset. The handset connects via a TCP/IP stream to the Axxess IPRC card or directly to the 5000. In comparison to SIP mode, IP mode enables all of the Mitel features and functionality that the system provides for a traditional handset.
SIP
When Mitel announced the release of Axxess v8.2 & the 5000 family with it a full suite of IP handsets. The family of new 8000 handsets includes multi-protocol IP desktop phones and a Session Initiation Protocol Softphone for Pocket PC.
Designed to operate on converged IP networks, such as the internet and corporate LANs/WANs, these new handsets enable flexible working and remote office applications. The handsets offer an increased range of features and functionality, all of which can be configured with either Mitel's Axxess/5000 protocol or SIP.
Due to cost effective pricing, SIP handsets can be used not only for remote workers, but also as an IP solution for green field sites. SIP handsets enable the Axxess/5000 to provide IP to the desktop for customers requiring a converged platform on a single site.
As a protocol, SIP is designed to provide interoperability and enhanced services by connecting a wide variety of multimedia handsets and applications together in a standard format. With SIP at the core of Mitel's presence management solutions, business owners and individual users have more choices, enabling them to leverage their communications investment by selecting devices, applications and configurations that best meet their unique business needs.
Mitel offer an increased range of features and functionality, all of which can be configured with either Mitelís Axxess/5000 protocol (Axxess/5000 mode) or SIP (Session Initiation Protocol).
When a handset is in SIP mode, it uses SIP to connect to the Mitel SIP Server.
One advantage of running in SIP mode is the use of the Shared Extension Feature. A shared extension allows up to five SIP handsets to use the same extension number on the Axxess & 5000 system. This is advantageous because callers only have to have one number to reach an individual. When a call comes, all of a users devices ring at once, allowing the recipient to choose the closest, most convenient device. Users only have one voicemail box and only one port is used on the system.