Call Center Suite - Management Tools
Empower your managers with a suite of reporting tools to assist in call center or workgroup management—increasing employee productivity and facilitating exceptional customer service. With Mitel's Management Tools, supervisors or department managers are privy to key statistics on agent productivity and cradle-to-grave call activity. Managers can access real-time and historical reports for inbound and outbound call traffic, generate customized reports, access management tools via a Web browser, monitor agent activity and availability, control incoming calls and much more.
Reporter Basic
Reporter Basic captures historical call activity from cradle-to-grave on calls connected through external trunk lines. Customizable options include extension, trunks, call direction, call duration, call route and call status. Reports can be summarized to key statistics or expanded to complete call segment information. Businesses can track and return abandoned or lost calls to minimize revenue lost and improve customer care. Reporter Basic helps managers analyze historical inbound and outbound call data for facilitation of business decisions.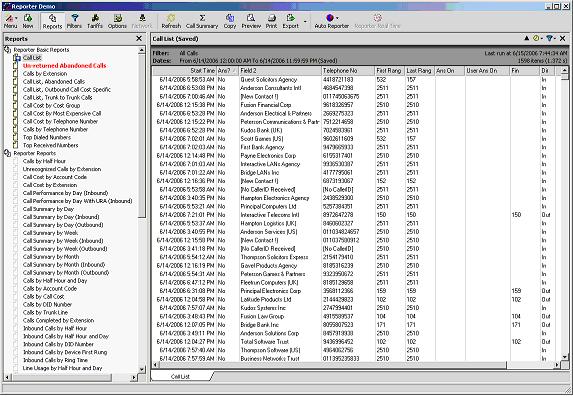 Reporter
Reporter includes all of the features of Reporter Basic plus it displays real-time performance metrics for external call traffic that can be customized to focus on an extension, groups of extensions, and/or entire view of the call center or department. Plus it provides audio or visual alarms if a threshold is crossed. Reporter allows managers to control and monitor agents in real-time to improve business operations. Critical call center or department information is displayed in user-customizable tiles. Managers can take control over extensions to steal, transfer, monitor or Record-A-Call.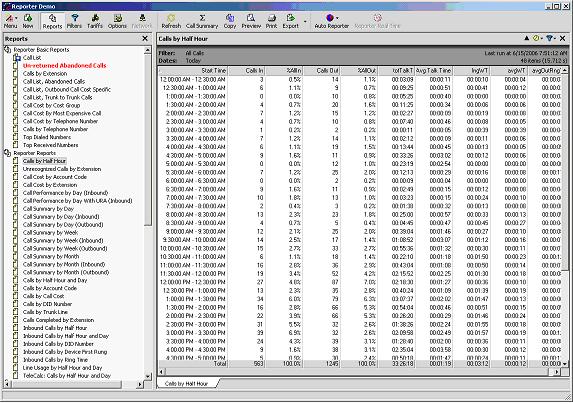 Reporter Pro
Designed for formal call centers with Agent IDs, Reporter Pro incorporates all of the features of Reporter Basic and Reporter plus it displays real-time performance metrics to focus on an agent or extension, hunt groups and/or the entire call center and provides an alarm if a threshold is crossed. A list of agent names shows current information on employee status and activity. It also enables supervisory access to log agents in or out; change Do-Not-Disturb messages; and monitor, record and steal calls in progress.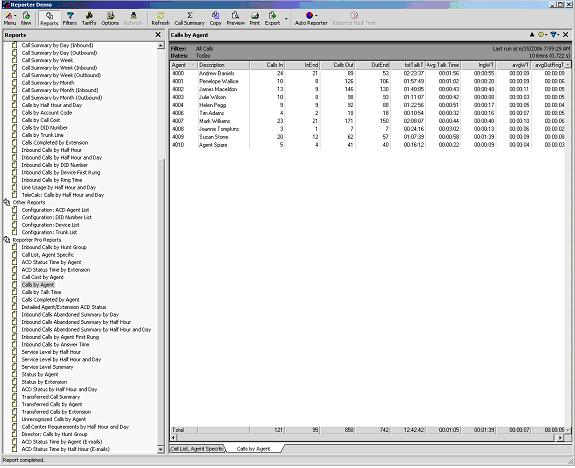 Auto Reporter
With Auto Reporter, you can schedule reports or groups of reports to print routinely to different destinations, including printers, monitors, e-mail, Web, and Wireless Application Protocol (WAP)-enabled cellular phones. This Collaboration tool allows managers to be connected to their call centers at all times—even when they're away from their offices. Auto Reporter supports local or dial-up Web servers through FTP. Additionally, Auto Reporter offers Palm OS® format support for offline reporting analysis from a handheld PDA device.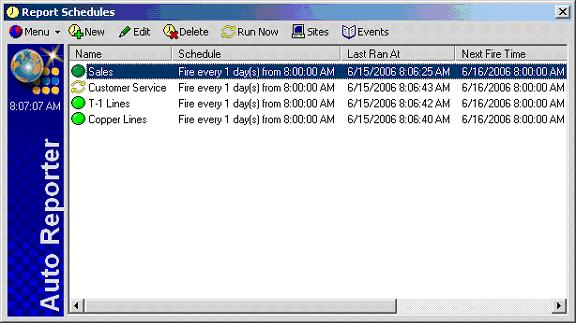 Call Center Suite - Workgroup Tools
CallViewer
CallViewer provides agents with screen pops of who is calling, access to customer information from an integrated company database and the ability to control call processes from PCs. CallViewer offers pre-integrated database applications and macro capabilities to interface with proprietary company databases. Your business can automate the laborious and time-consuming task of looking up customer account details and enable your staff to provide personalized service quickly and easily. Agents and employees can also expedite call handling with on-screen call control buttons such as dial, answer, hold and transfer.
StationViewer
StationViewer helps develop extension-based workgroup communication awareness with its user-friendly status window showing all team members' extensions and status. This window of insight provides the name, extension, call status and caller information for group members. In addition, members are able to control calls from the status window through control buttons and mouse options.
RealViewer
The RealViewer application can be used on a team member's desktop or a department-wide monitor to show real-time performance levels and statistics. Team members view a display of over 140 vital real-time call statistics. Audible and visual alarm indicators alert employees when configurable thresholds are exceeded. By deploying RealViewer in your call center or workgroup, you are certain to see increases in agent motivation plus improved wrap-up times and performance levels.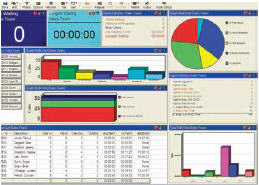 Improving Business Processes
Enables managers to make informed business decisions based on real-time and historical statistics
Provides management with the information they need to measure employee performance
Enables immediate impact to calls waiting in queue
Improves agent training and quality assurance standards
Allows supervisors to actively manage call flow or processing to the extensions
Provides basic call costing to better understand company telephony costs